Fort McMurray Reads 2012
This Summer…Get Ready…For…The Battle…OF THE BOOKS!
The Fort McMurray Public Library presents FORT MCMURRAY READS 2012! Based on the popular CBC Canada Reads broadcasts, Fort McMurray Reads offers a fun local twist, one that seeks to get residents of Wood Buffalo talking about books, as well as the pleasures and benefits of life-long literacy.
Prominent community members on the Fort McMurray Reads Panel will go head-to-head in a debate to determine which of their chosen books should be THE recommended title for everyone in the Wood Buffalo region to read this year. Ultimately, however, the decision will rest in the hands of the event's audience, who will cast votes to choose the Fort McMurray Reads Book of 2012.
Toddske & Tito, hosts of the YMM Podcast and known geeks, will be on the Panel defending the great Graphic Novel "MARVELS", written by Kurt Busiek and illustrated by Alex Ross.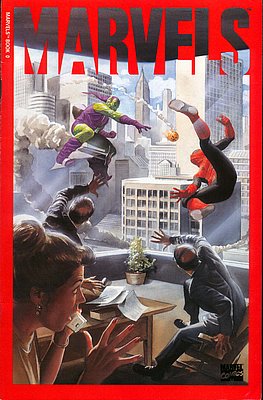 Set from 1939 to 1974; this graphic novel examines the Marvel Universe, the collective setting of most of Marvel's superhero series, from the perspective of an Everyman character: news photographer Phil Sheldon. The street-level series portrayed ordinary life in a world full of costumed supermen, with each issue featuring events well known to readers of Marvel comics as well as a variety of minute details and retelling the most infamous events in the Marvel Universe.

Saturday, August 25 2012
6:00pm to 9:00pm
Miskinaw South at Suncor Community Leisure Centre (MacDonald Island)
FREE TO ATTEND
Come on out, support reading and PROVE that Comic-Book Geeks rule the world!
For more information and to see the other amazing Panelists for this event, check out the Fort McMurray Public Library website!
THANKS TO ALL WHO ATTENDED!
To hear the event, tune into Episode 49 of the YMM Podcast!