It's no secret the amount of shit the residents of Fort McMurray and the Regional Municipality of Wood Buffalo went through this year. I often look back at our month-long evacuation (much longer for some) and think about the JJ Abrams 2009 Star Trek reboot. *SPOILERS* In the film, the planet Vulcan is blown-up and left a few thousands Vulcan's wandering around the galaxy with no place to call home. This is literally how it felt for me; our home was (potentially) in ashes and a large group of us were left to wander the province, and in some cases the country, almost aimlessly.
Being the "Internet Generation", we often read about the goodwill of people opening their homes to those in need. I never thought in a million years I would be one of those people benefiting from the kindness of strangers. All of us who reside in Wood Buffalo wanted to share our thanks to EVERYONE that helped us in our time of need. Have a look at the video below. If you offered your home, donated to the Red Cross, donated to any one of the many evacuation centers around the province, volunteered or even simply offered a hug to any of us who needed it…this video is for you:
I also wanted to say I am especially thankful to the wonderful nerds over at "Geeks Under the Influence" Podcast. These guys reside in Richmond, Virginia and for the most part are people we've never even met before. But when they heard about the devastation in our community, they immediately stepped up and campaigned for donations to the Canadian Red Cross. It's one thing to have people you know help out, it's incredible and heartfelt (and there are MANY who did some amazing things for us which we are very thankful for)…but for fellow podcasting brother and sisters who you've only interacted with on an internet level to step-up? That is the true spirit of unity.
These guys are hilarious. Give them a listen at www.guipodcast.com. To Mike, Anthony, Matthew and especially Jodi (I'm sure I'm forgetting more), you guys made friends for life up here. Keep it drunk and keep it geeky!
Speaking of raising money for the Canadian Red Cross, not many people understand there is still a great need for this organization in our community. Line-ups continue to been seen at the Fort McMurray Red Cross offices with people who have lost their homes or are in other dire situations needing support. I am thankful for the many organization who raised money for the Red Cross and the many others that continue to do so.
Like our friends Ubiquitous Synergy Seeker (USS). We used their kick-ass new song "Work Shoes" in our latest Cosplay Music Video. They currently have a bundle up for sale on their website that gets you some AMAZING swag including signed limited edition vinyl records as well as digital downloads of their latest work. Proceeds from these purchases go to the Canadian Red Cross for continued Fort McMurray support.
Purchase the USS Special Alberta Fire Appeals Bundle HERE.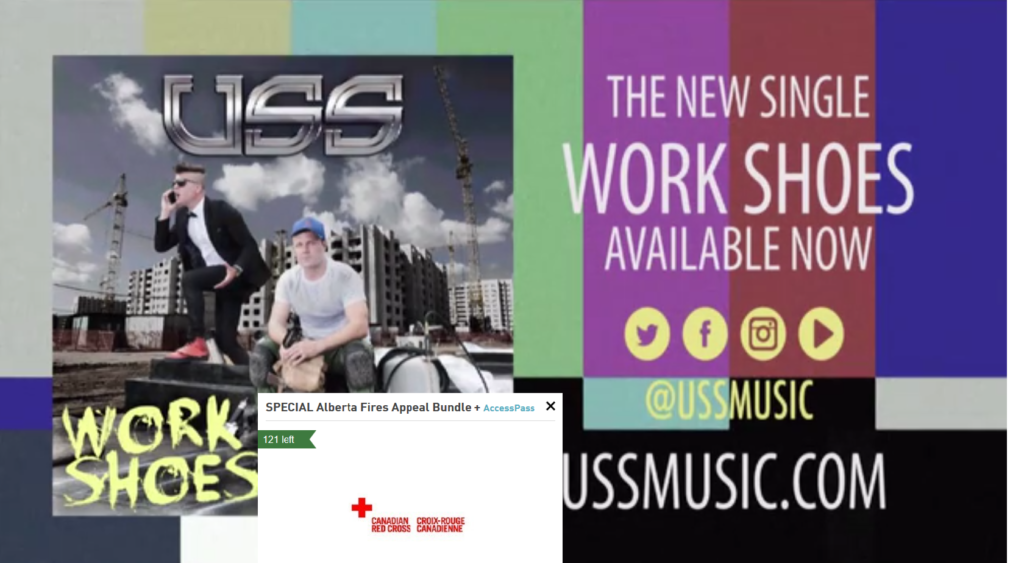 There's plenty to be thankful for this October. Friends, Family, Community. Be sure to say your thanks not just today but everyday. You never know when you might be forced to flee and never have the opportunity again.