During our recent HOCKEY SHORTS & PUCK BUNNIES winterPLAY event, we announced that Events Wood Buffalo and the YMM Podcast will be holding a special Social Media Auction in support of the Fort McMurray Boys and Girls Club.
The Boys and Club play a vital role in our community by providing a safe, supportive place where children and youth can experience new opportunities, overcome barriers, build positive relationships and develop confidence and skills for life! This non-profit organization provides After-School Child Development Programs as well as several different types of child care and drop-in programs for ages ranging from infants to toddlers to teens! Their facility, located on Riedel Street, is in need of a new roof; so we, quite literally, want to RAISE THE ROOF for this wonderful organization and give them as much support as possible.
To accomplish this, we're going to auction off an Edmonton Oilers jersey SIGNED by Ryan Nugent-Hopkins; the 1st overall pick in the 2011 NHL Entry Draft!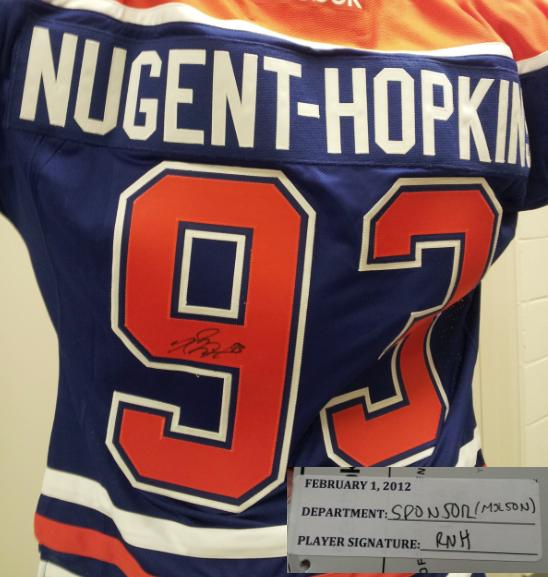 To bid on this amazing collectable, it's really quite simple; all you need is Twitter or Facebook and follow the YMM Podcast and Events Wood Buffalo!
TWITTER: (www.twitter.com/ymmpodcast)
Simply tweet your bid by mentioning @ymmpodcast and use the hash-tag #winterPLAY
FACEBOOK: (www.facebook.com/ymmpodcast)
LIKE the YMM Podcast page and place a bid on the wall
It's just that easy!
Bidding will start THURSDAY, February 23 2012 at HIGH NOON and run until SUNDAY, February 26 2012 at 6pm. Since we really want to support this great great cause, we are going to open the bidding at $300! Every so often, we will update this blog, as well as our Facebook and Twitter pages, with the current bid so people are in the know.
I've always been proud to be a part of the "most giving community in Canada" and in my opinion, the entire world. Not only are you bidding on a chance to own a jersey that is autographed by a hockey player that is being compared to the likes of legends Mario Lemieux and Wayne Gretzky, you are also supporting a tremendous organization that does absolute wonders for the youth in our community.
Big Thanks to Molson Coors for providing Events Wood Buffalo and winterPLAY 2012 with this one-of-a-kind item!
BIDDING HISTORY
Opening Bid = $300
@Hyperphotonic via Twitter = $350
@pope1199 via Twitter = $400
@Keltonification via Twitter = $401
@pop1199 via Twitter = $425
@Keltonification via Twitter = $450
@Keltonification via Twitter = $475 (outbidding himself)
@SHJT124 (on behalf of Stephanie Lopushinsky of The Mortgage Office) via Twitter = $700
SOLD TO @SHJT124 (Stephanie Lopushinsky) FOR $700!!!
Thanks for assisting the Fort McMurray Boys and Girl Club get a new roof!
Stephanie Lopushinsky outbid her own final total to donate $1000.00 to the Fort McMurray Boys and Girls Club! This is a great show of community support and the precise reason why we are the most giving community in all of Canada!